You may have heard that these awesome tanks are back on the block. We here at Dropship Horizon thought that these beautiful rigs were worth showing off, but here's what their creator had to say about it...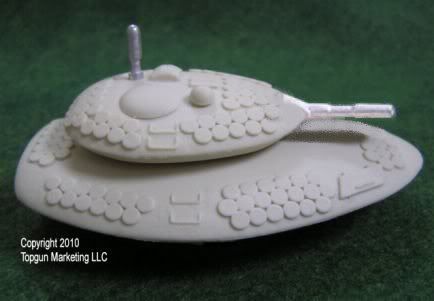 I just wanted to let you know that our Topgun 15mm Grav Armor range is available for sale again.
All vehicles are available for sale individually, and the most popular ones are as well in discounted Platoon (4 vehicles) and Company Packs (12 – 16 vehicles).
We currently have 13 different vehicles for sale (26, if you consider both the models with the smooth hulls, and the ones with the circular surface detailing on them), and we plan to release others soon.
Type 7 Scout/Recon Grav Vehicle
Type 8 AA Pt. Defense/Light Mortar Vehicle
Type 10 Medium Grav Tank Hunter – beam/cannon armed
Type 12 Grav Tank Hunter – Missile Armed Vehicle - Available Soon
Type 13 Heavy Grav Tank – long, plasma cannon
Type 13 MkII Hvy Grav Tank – short-barreled gun - New Model, Avail. Now
Type 14 Heavy Tank Hunter
Type 16 Urban Assault/Fire Support Vehicle - short, hvy wpn
Type 22 Grav Infantry Fighting Vehicle
Type 23 Grav Ambulance/Ammo Carrier/HQ Vehicle
Type 24 Heavy Grav Mortar Vehicle
As mentioned, we offer two hull/turret variants (as applicable), for all of the above vehicles – smooth hulled, and AADS models.
Those with the round surface detailing on their hulls are our AADS models, which is an acronym for the Active Armor Defense System Ó installed in them, providing maximum protection against all enemy anti-armor threats, while also offering a standoff offensive capability against many targets, especially enemy infantry.
Our smooth-hulled models have sleek, clean lines, as you can see in some of our photos. The hulls and turrets of these are cast out of titanium, in the vacuum of space, so they have no panel lines, or seams to weaken their armored structures. The rotomolded construction process is similar to that used by 20th and 21st Century plastic kayak manufacturers, on Earth, and developed centuries ago. However, it is considerably stronger, since the molten titanium is then quickly cooled in the vacuum of space, and repeatedly reheated and cooled many times, until an almost impervious, titanium-crystalline structure is created, similar to how samurai swords were tempered.
For a MS Word catalog of our products, which provide photos of most of our vehicles, pricing info, suggested TO&Es for your Grav Armored units, etc., just send an e-mail inquiry to the following address:
I will be happy to provide copies of our catalog, answer any questions people may have about our products, or to assist with processing orders.