15mm.Co.Uk
has added yet another entertaining product to
HOF
Humanity range: Hired Goons. Wearing boiler suits and armed with submachine guns, hese figures would be great in James Bond (or even Austin Powers) settings. Use them to guard your evil lair, mount laser beams onto sharks, or to push around the boiler-suit wearing
alien goons
from
CP Models
! They are available
in a 10-pack
or
as separate poses
.
* * * * *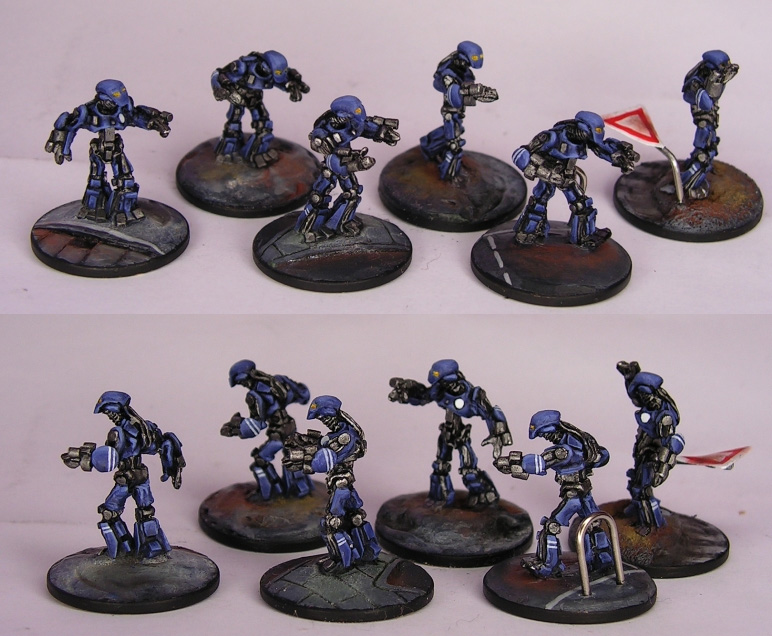 On the other side of the law,
Khurasan Minis
has expanded the
Federal Police
range. The
Security Force Troopers
pack offers ten heavily armed and armored law enforcement professionals
(I really like the futuristic pistols!)
as well as a casualty figure
.
The
Federal Cyborg Supercop
... um... doesn't need much explanation. :) But the pack that caught my eye is the Police Bots
(pictured)
. I've been a fan of the unarmed robot in the
DPLS Spaceship Crew
pack since it's release, and have long wondered if we'd see more figures based on that robot design. They're intended for use as police automatons, but it wouldn't surprise me if we start seeing complete armies based around this pack.
* * * * *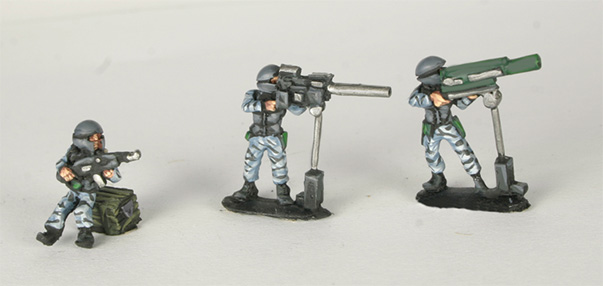 Khurasan Minis has also expanded the Sepulvedan Resistance Fighters range. Those of you who have been fighting against the villainous Jellina Jo-el I and her fearsome Control Battalions will welcome the new Sepulvedan Provisional Army Regulars and Sepulvedan Provisional Army Jungle Fighters. Each division has four new packs, differentiated by futuristic combat helmets or berets respectively. The packs for each division include Regulars (armed with the same pulse rifles as the Control Battalions), Command/Heavy Weapons, Mortars, and a pack of Truck-Borne fighters (pictured). The latter are intended to be used with the excellent Rockjumper tracked pickup, but could also be useful in similar vehicles from Old Crow, GZG, and Ravenstar Studios.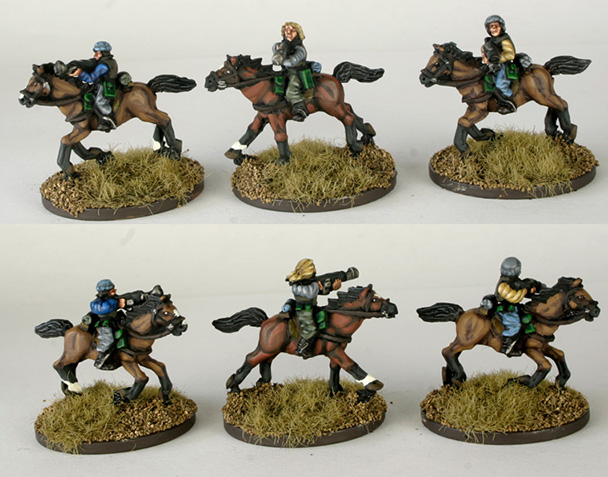 One additional pack is available - Sepulvedan Resistance Scouts on Horses. Jon might find a sleeper hit with these figures, even outside of their obvious use as low-tech space colony forces. Many of us have long been inspired by post-apocalyptic movies like
The Postman
and
Book of Eli
, along with the new TV series
Revolution
. These Scouts would be perfect in those settings. And they would be great opponents for the
Post Apoc Riders
from
Rebel Minis
.
* * * * *
In the same vein but on the opposite side of the technology spectrum,
Black Hat Miniatures
brings us some long-overdue reinforcements for the Tolero. Two cavalry packs are now available - one
armed with bows
, the other
armed with spears
, both mounted on
Terror Birds
. This is one of 15mm Sci Fi's greatest strengths. A sculptor or manufacturer takes an idea from existing media
(the Tolero certainly never tried to hide their inspiration!),
and produces a base pack or two. But eventually their own creative nature takes hold, and that force is able to find its own identity. I certainly don't remember seeing terror bird cavalry at the end of that 1983 movie, but now we can use them in our own universes. These are especially useful in games like Alien Squad Leader, where stands of primitive infantry and cavalry fight alongside their high-tech masters.
Cheers,
Chris